As an add-on to my last post about attracting young people to the hobby, I think it's important to not the hobby is not dying. In fact, a podcast provided by a reader of this blog (Hi Joe!) provided some real insight into the state of the hobby. However, as model railroading evolves some elements of the hobby are dying. So here's a list of things I see as slowly going extinct. Again, I don;t have any stats to back this up, merely my own observations.
1. Brick and Mortar Hobby Shops:
Let's start with the obvious. Hobby shops are dying a long, slow death. The rise of mail-order firms in the 1990s and then online shopping in the 2000s have done them in. Model manufactures going to the "we'll make the model when we get enough preorders" business model hasn't helped either.
2. Rapido and Horn Hook Couplers:
It seems to me, at least in n scale that most new models come with some form of knuckle coupler. Most of the Rapido-equiped cars I've had to convert in the last few years have been train show or ebay purchases.
3. Brass Locomotives:
Model manufacturers seems to be introducing more and more road-specific power, eliminating the need for brass. The quality and detail level of plastic models has also improved considerably over the years.
4. Locomotives that don't support DCC:
More and more it seems manufacturers are coming out with decoder-equipped locomotives. DCC is becoming ever more popular. I believe in the next few years all locomotives will have either a dual-mode decoder or at least be DCC-ready. I believe we will also see an increasing number of Bluetooth locomotives in the more distant future.
5. O-Gauge Tubular Track: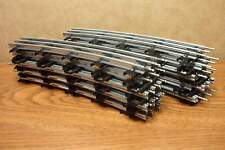 Yes, it's horribly unrealistic, but nothing conjures up images of Christmas moring like this track. Lionel discontinued it in 2016. However, Williams by Bachmann and Menards are still making it. But with most hobbyists in 3-rail O-Gauge opting for either Gargrave or Atlas, I don;t see much of a future for the old track.